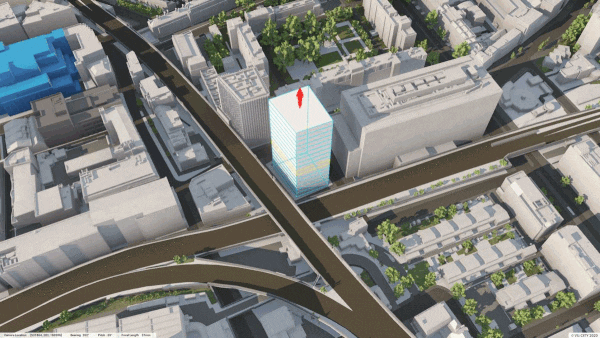 Zone of Theoretical Visibility (ZTV), also known as a Zone of Visual Influence (ZVI) or Viewshed, instantly allows you to see where people can view your proposal from.
This incredibly advanced scoping tool will help save weeks of consideration for our users by eliminating unnecessary views and informing what views that are critical to assess.
When used in the early stage development, VU.CITY users can use this tool to quickly determine the visual impact of a building, then change its height or form and visually see the difference its impact has on the surrounding area in a matter of seconds.
ZTVs are a welcome addition to the VU.CITY Platform. It is a useful planning tool that will help us when it comes to scoping views that need consideration to ensure proposals take account of the historic environment. Alasdair Young, Inspector of Historic Buildings and Areas - Historic England
Previously ZTVs were difficult and expensive to create, however, now with VU.CITY they are available to every user and can be run in seconds to instantly see the effect changes to a scheme will have. The ZTV tool can be used across all VU.CITY's 20 UK and international cities, that's over 2,600 sq km and growing fast.
The ZTV studies reflects 10 different height bands, with each colour identifying how much of the building you can see from any given location. Users can create studies up to 2,000 m² in distance to scope the impact of their schemes.
Another game changing tool from VU.CITY! To conduct our own ZTVs to scope views in minutes is incredibly exciting! Adeleh Haghgoo, Senior Consultant, Heritage and Townscape - Savills
The ZTV tool has been built to help everyone involved in the design and planning process:
Townscape Consultants: The ZTV tool will be massively beneficial throughout the planning process by scoping views for consideration.
Architects: Can use ZTVs to help understand massing options, particularly with height analysis, giving a greater sense of feasibility on designs.
Planning Officers: ZTVs will be useful in helping agree the views required for planning.
Developers: Can use ZTVs to support justifications on a scheme being sensitive to its location. This will be especially useful when used in areas with many consented schemes by using the ZTV tool with the 'Consented Scheme Timeline' tool.
The VU.CITY Platforms ZTV tool provides users with valuable scoping capabilities. However, if wider detail or greater accuracy is required the VU.CITY+ team are here to help.
To assist in the scoping of Verified views, VU.CITY can run ZTVs to a borough wide scale, both with and without trees. Varying definitions of colour for different aspects of a schemes height can also be customised.
If you would like to commission more accurate ZTVs over a wider geography get in touch - info@vu.city.